Helpful Articles:
A Must Read Novel About Police Suicide (Women Police Magazine)
PTSD: A Brief Discussion of a Complex Condition (Minnesota Police Journal)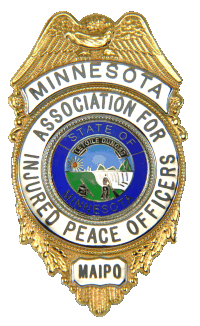 Resources
Benefits Available for Injured Officers
The following material is provided by the Minnesota Association for Injured Peace Officers and is presented to you as a matter of information and in no way is our association responsible for the awarding or denial of an individual's claim relating to the following agencies named below. These benefits may be obtained by submitting the required information and documentation by you; or a trusted family member or friend.
Workers Compensation: www.dli.mn.gov. It is very important that you consult a Workers Compensation attorney before proceeding.
Benefit from individual disability insurance coverage. Please contact insurance company if applicable.
Backing the Blue Line: this police-wife led charity provides assisance and support to injured officers and their families. Website: www.backingtheblueline.org
You should also check with any law enforcement organizations or fraternal and social organizations where you are a member.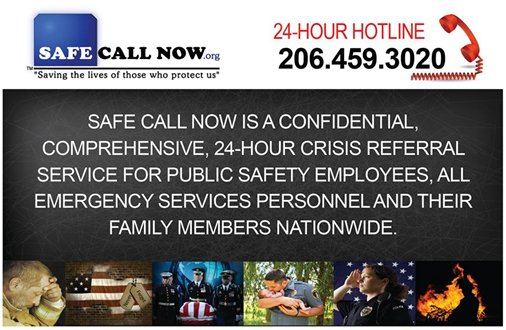 Benefits for Officers Injured by Criminal Acts
Benefit from the Military Order of the Purple Heart First Responder Program. This program is for public safety officers who are wounded in the line of duty. The program coordinator contacts the law enforcement agency involved and a public ceremony is held honoring the injured officer. www.purpleheart.org/FirstResponders/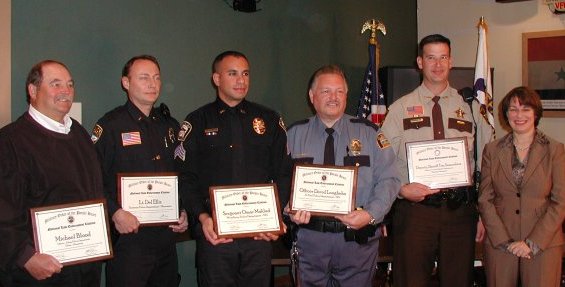 Off. Mike Blood (ret.), Lt. Del Ellis, Sgt. Omar Maklad, Off. David Longbehn, and Dep. Tim Samuelson with Sen. Amy Klobuchar after receiving their purple heart awards on October 30, 2010. More photos
Benefit from Minnesota Victim Reparations Board (amount of benefit varies) Minnesota Statute 299B. Contact Crime Victims Reparation Board, Suite 2300, Bremer Tower, 445 Minnesota St., St. Paul MN 55101. Website: www.ojp.state.mn.us
Benefits from lawsuit brought against the person who was responsible for causing the disability. Consult your attorney on this matter.
Disability Benefits for Minnesota Peace Officers
The links below are for benefit sources for severely and/or permanently disabled police officers and their family members.
Benefit from disabled officers retirement plan. Please consult with specific retirement plan. Generally, this will be PERA: www.mnpera.org
Benefit from U.S. Government for disabled officers who qualify under Social Security, (amount of benefit varies) per Social Security Act. Correspond with nearest office of Social Security Administration. You need to have recently paid into Social Security and not just PERA in order to qualify. Website: www.ssa.gov
Health Insurance Benefit, Minnesota Statute 299A.465 requires the employer to pay for continuing health insurance. Eligibility determination will be determined by officer's retirement association. More Information >>
Benefit from the International Association of Chiefs of Police. Spouses or children of totally disabled officers are eligible for educational scholarships. Website: www.theiacpfoundation.org
Benefit from the American Police Hall of Fame. Disabled officers are eligible for financial assistance with medical expenses, college, or vocational scholarships and a Legion of Honor medal. Children of officer are eligible for college scholarships, summer camps grants and holiday gifts. Please correspond with the Family Fund for Paralyzed and Disabled Officers, American Police Hall of Fame Building, 6350 Horizon Drive, Titusville, FL 32780. Website: www.afp-cc.org. First, click on Benefit Forms. Then, click on Disabled Police Enrollment Form.
International Chiefs of Police Foundation Scholarship for children of Officers traumatically injured in the line of duty.
Recreational Opportunities
Free Adaptive Diving: www.freedaptive.org has partnered with the Courage Kenny Rehabilitation Institute (CKRI) to offer scuba diving to individuals with physical and cognitive impairments. Previous experience with scuba diving is not required, only a desire to experience the benefits which diving offers.