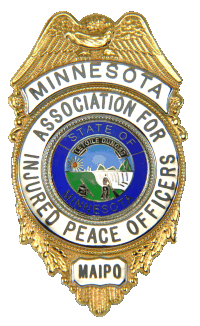 Board of Directors
MAIPO is a registered non-profit with the state of Minnesota, and is a 501c3 charitable organization.
President: Jim Crawford - Email
Jim is a retired police chief, and one of the founders of the LAw Enforcement Memorial Association (LEMA). He has spent many years helping the families of fallen officers, and helped found MAIPO because he saw the unmet needs of some of our seriously injured police officers.
Vice President: Paul Maier - Email
Paul is a detective with the Eagan Police Department.
Secretary: Cheri Blood - Email
Cheri is the wife of Mike Blood, retired Edina Police Officer.
Treasurer: Pam Richter - Email
Pam is the wife of Brent Richter, retired State Trooper.
Mike Blood - Email
In 2000, Mike was shot and left for dead just 29 days before he was due to retire from the Edina Police Department.
Brent Richter - Email
Brent spent almost thirty years in law enforcement, the last twenty with the Minnesota State Patrol where he was retired after a series of significant motor vehicles crashes that spanned his entire career.
Wendy Wulff - Email
Wendy is the wife of Dan Wulff, who was medically retired by the Minneapolis Police Department following a blast injury in 2005.
Dave Delmonico - Email
After a 30 year career Dave retired from the Lakeville Police Department as a Detective/Sergeant. Dave experienced/assisted several partners that had to leave the profession due to injury.
Lisabeth Mackall - Web site
Lisabeth is the wife of injured officer Frank Mackall, Savage PD
Beverly Peterson - Email
Beverly was a Ramsey County Sheriff's Deputy for over 18 years and is now medically disabled. One of the founding members of Midwest Children Resource Center (MCRC).
Lee Okerstrom - Email
Lee is medically retired from the Columbia Heights Police Department after being injured on duty.
Allan Johnson - Email